TorontoBengali.Com
Updated: Nov 20, 2017
Weekly News Digest
Click Here For News Index
Sports: Sky is the limit for Kohli, says Shastri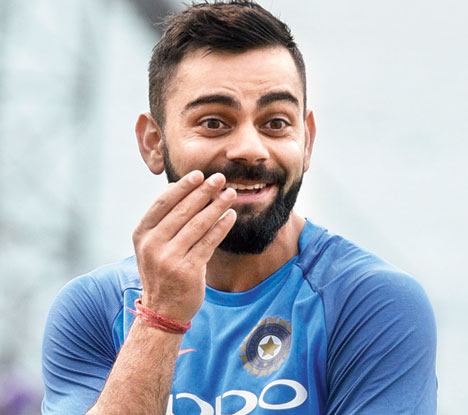 Calcutta/ Dublin: Without doubt, the coming days give India their best chance of having their most successful tour of the United Kingdom. Such is the Virat Kohli-led team's current form. In the shorter versions India have outplayed most of the rivals in recent times, while in Tests too - despite the defeat in South Africa - errors have been few from this Indian side. Besides, one has to flip through the history pages to check whether any Indian contingent of the past travelled to England with just one Test series defeat in three years.
So, when such things are mentioned, even the severest of critics would think twice sit up and take notice of the progress India have made. India's tour of the United Kingdom gets underway on Wednesday, when Kohli and Co. take on Ireland for two T20Is in Malahide, which is on the outskirts of Dublin. The T20I versus the Irishmen are a dress rehearsal before the actual test, but India would do well to not let the guard down when they take on a lowly but lively Ireland. The games will mark the onset of a long summer for the Indian team, with sterner tests against England to follow the Ireland chapter. England have just hammered Australia in an ODI series and most of their top players are in sublime form.
Perhaps it was a marker of this crucial impending assignment that India decided to stay on and practice in London on Monday. Since the tour of South Africa, this is the first time a full-strength Indian team will be seen in action. Virat Kohli, Bhuvneshwar Kumar, Jasprit Bumrah and Mahendra Singh Dhoni were rested for the T20I tri-series in Sri Lanka in March. The former trio also missed the one-off Test against Afghanistan in Bangalore recently. With Lokesh Rahul in contention for a starting spot in the middle order, Manish Pandey, Suresh Raina and Dinesh Karthik will be left jostling for two spots. As part of the full-strength Indian side, the three had featured in the T20I series against South Africa. Raina had been used as a pinch-hitting, aggressive No.3 option, but the current situation might warrant a re-think. Nevertheless, Raina provides a sixth bowling option as well. India would also not want to drop Dinesh Karthik, who is in sizzling form since March. It could mean that Pandey eventually warms the bench, despite scoring 255 runs in 8 T20Is this year against South Africa, Sri Lanka and Bangladesh at an average of 85. On the bowling front, Kohli will be tempted to field both leg-spinners Yuzvendra Chahal and Kuldeep Yadav, giving them an early taste of conditions here. However, the pace department is an area of concern, as the second-choice fast bowlers have not enjoyed enough game time. Since the 2017 Champions Trophy, India have played 32 ODIs and 18 T20Is, with Bhuvneshwar and Bumrah handling the new ball in 26 ODIs and 9 T20Is, respectively. Umesh Yadav last played an ODI in September 2017 against Australia. Siddharth Kaul was in the Indian squad for the home ODIs against Sri Lanka in December, but was not picked ahead of Kumar-Bumrah.
It remains to be seen if the think tank will bench either Kumar or Bumrah against Ireland to give other pacers some much needed overs. Meanwhile, Ireland captain Gary Wilson said that he doesn't want to have too many plans for the Indian batsmen. Further, he outlined his goal to help bottom-ranked Ireland play in the forthcoming World T20s. "I don't like to have too much of a plan before you go out there. In T20 cricket, you should think on your feet and trust gut feeling most of the time," he said. India and Ireland do not have a rich playing history. Despite touring England in 2011 and 2014, this is the Men in Blue's first visit here since 2007 when they played a solitary ODI at Belfast. Overall, India and Ireland have played only four times, in three ODIs (the other two during 2011 and 2015 ODI World Cups) and a T20I in 2009 during the World T20 in England.
--------------------------------------------------------------------
Click Here For News Index
Disclaimer: All the news clips are collected from various medium. Torontobengali.com neither agree nor disagree to the opinion expressed in the contents. Copywritten meterials will only be published with the permission of copywrite holder. These news items are not provided here to generate any revenue. They are only here for reading pleasure of Torontobengali.com readers
| | | | | |
| --- | --- | --- | --- | --- |
| Home | Toronto News | Music & Movie | NABC | Great Links |