==================
Click on the article to read details
TOLLYGUNGE: News In Bengali - Entertainment News
1 - Key to Modiís global success lies at home
The globetrotting would help Modi shape his world view. But it is Indiaís economic strength and stability that would determine just how much clout he would command on the international stage. Read more..........

2 - Transition from CM to PM Modi's rough edges getting smoothened. - Narendra Modi's transition from a boastful Chief Minister proud of the Gujarat model and a fierce campaigner who was critical and contemptuous of rivals to a sober Prime Minister is in progress and an indication of this was available in his reply to the motion of thanks on the President's Address. - Read More..........

Time to move away from the personality cult: Nawaz Sharif, Imran Khan and Altaf Hussain

NARENDRA Modiís recent victory in India was termed by some as a blow to the country's democracy. The strong mandate he received was interpreted as a mass critique of a system that has been paralysed by the chaos of coalitions, and resulting corruption.

Read More....


- Islam is beset by its inter-sect rivalry for space which has seen violent overtones for many centuries. Until this rivalry is put to rest with victory, dominance or defeat of one or the other, there is no likelihood of evolution towards modernism. Read More.....

- The last session of the 15th Lok Sabha brings to an end one of the most disappointing periods in the short parliamentary history of India. Read More.....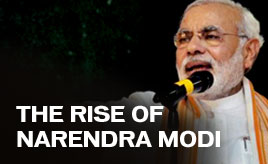 - Perhaps Mr Rajiv Pratap Rudy was carried away by the scale of the Bharatiya Janata Party's victory in the Lok Sabha election by deriding the rout of the Congress in the Rajya Sabha, demoting it as a regional party. Obviously, he was not paying attention to his leader Narendra Modi, who has studiously refrained from striking a triumphalist note. Read More... (a) BJP teamís Birbhum visit irks Didi , (b) Trinamool demands arrest of Kanti Ganguly , (c) Saradha ponzi scam: ED fears arrest of officer , (d) ED may quiz Saradha 'beneficiaries' this week , (e) India's very own Madame Tussauds' wax museum soon in Kolkata , (f) Timing of Kolkata Metro services extended - Former India captain Sourav Ganguly today joined the Supreme Court-appointed Mudgal committee, which is probing the IPL betting and spot-fixing scandal, as an expert on cricketing affairs. Ganguly is conversant with the modern day game and has an unquestionable reputation when it comes to integrity. Read More....
--
- Sunny Leone is determined to work hard, and starring with the three top Khans is on her priority list. / This time, the feisty actress Vidya Balan is going all out to prove she is Bollywood's most bankable actor. Produced by Dia Mirza and directed by Samar Shaikh, Bobby Jasoos stars Vidya Balan, Ali Fazal, Supriya Pathak and Tanvi Azmi. Read More.. 10 TOLLYGUNGE: News In Bengali - Entertainment News

==================
Less than one month left for 34th NABC conference at Hyatt Regency Hotel, Orlando, Florida from 4th to 6th July 2014. Presentation of highly entertaining program with vocalists, dancers, musicians, actors, actresses & band group from Mombai, Kolkata & Dhaka will be highlight again at the sanmelan. Artists expect to participate are Shadhna Sargam, Shubhomita, Chadrabindu band, Rupankar Bagchi, Anupam Roy, Bappi Lahiri and many many more. On line registration is going well as well as hotel booking. So check it out by clicking following link.
==================
ASTAPRAHAR KIRTAN: By BANGIYA PARISHAD, ISKCON & UTKAL SAMAJ on June 21st, Saturday, 9:00 AM to June 22nd, Sunday, 10:00 AM at Tagore Center, 140 Millwick Drive. Every one welcome. Prasadam will be served all day. For more info, please call,
Friendship Day: PBCA will celebrate "friendship day" on Saturday, July 19th starting at 11:00 AM at Tagore Center. For more info & rate, please call chairperson Ashoke Neogi at 416-508-7952

==================

Annual Picnic: This year PBCA's annual picnic will be hald on August 16th at Heart Lake conservation, 10818 Heart Lake Road, Brampton, Spot#4. Please call chairperson Anirban KarGupta at 416-890-8263 for more info & rate.

==================

Satya Narayan Puja: Bangiya Parishad will celebrate the puja on July 20th at Tagore Center starting at 12:00 noon. Chairperson : Bapi Banerjee. If you like to sponsor this puja, please call Bapi @ 416-750-0652

==================

Vishwa Karma Puja: Bangiya Parishad will celebrate this puja on Saturday, September 20th at Tagore Center at 7:00 PM. Chairperson: Arun Raha (905-474-1302)
| | | |
| --- | --- | --- |
| | Live Criket Score Here | |
The Opening Words
We received phone calls and emails enquiring about the activities of Bengali community here in Toronto as well as services the community provide to new immigrants. We feel there is a need for a website that would provide the informations. This page is dedicated to that need. Having this page in world wide web means if anybody anywhere in the world like to know about the activities of Bengali community of Toronto, all he has to do is to search for this page. If you have any public service announcement(s) to make or just share your views, don't hesitate to contact us by email or phone. Thank you very much and enjoy. ---your TorontoBengali.Com team---
Send us E-mail at:
ghoshranen@ca.inter.net