==================
Click on the article to read details
Indian National News
1 - India is in a much better place after one year of Modi rule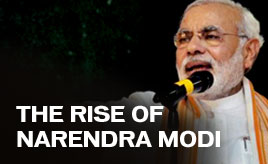 To say milestones are to columnists what lampposts are to dogs might be putting it a bit strongly. Nonetheless, in the run-up to the first anniversary of the BJP government, chances are that almost every columnist worth her salt will succumb to the temptation to devote at least one column to assessing the government's performance. This columnist is no exception. Has the government lived up to its promise? Has it failed to deliver? Is the honeymoon over? Opinions will span the full range: from extolling to castigating the government. The truth, as always, is somewhere in-between. Opinions can vary. They can also be coloured by the writer's political leanings. Read more..........
2 - Farmers' interests are only one part of designing a workable land acquisition law - The high-decibel debate on land acquisition, playing out in Parliament and media since the opening of the budget session, is asking the wrong question. Asking whether the Land Acquisition (Amendment) Ordinance 2014 promulgated by the president is anti-farmer or not is simplistic and misleading. It forgets that the issue under consideration is establishing a workable mechanism for acquiring land, not laying down the contours of a successful kisan vikas patra scheme. - Read More..........
I'm reporting from the Milken Institute Global Conference (April 26-29) in Los Angeles. Dubbed 'Davos with palm trees', the conference has been around for 18 years and is globally recognised today as one of the world's pre-eminent confluences for sharing ideas (and business cards). I'm no conference junkie. But I do attend my fair share of conclaves, ranging from Chintan Shivirs organised by my political party to arts and music festivals in Tennessee to the occasional "constellation of egos involved in massive mutual orgies of adulation" Read More....



- Reams have been written already about the Nepal earthquake that smashed Kathmandu and surrounding towns, shook and shattered many buildings in northern India, and killed thousands (I suspect the final tally will exceed 8,000). All experts agree that the entire Himalayan region is earthquake-prone, since the Indian tectonic plate is moving northward under the Tibetan plate at around 5 cm a year. This creates enormous geological strains that lead inevitably to the ruptures and earth-settling that we call earthquakes. Read More.....

- The Indian Parliament's momentous ratification of the India-Bangladesh Land Boundary Agreement has paved the way for further expansion of ties between the two countries. The passage of the Bill ratifying the 1974 India-Bangladesh Land Boundary Agreement (LBA) is a sign that India's 'neighbourhood-first' policy is beginning to work. Prime Minister Narendra Modi's deftness in reversing course on this issue within his party and winning support from all others enabled him to fulfil the assurance he had extended to his Bangladeshi counterpart last September in New York. Read More..... - Finance minister Arun Jaitley concluded his Budget 2015 speech with a quotation from the Upanishads, "Sarve bhavantu sukhinah, sarve santu niraamayaah" (May everybody be happy, may everybody be free from illness). His Budget, however, neither announced any significant ramp up in public funding for healthcare, nor did it provide any impetus to research and development in the pharmaceutical and life sciences. It may have kick-started thinking on the healthcare agenda, but the latter needs far more attention to be able to make a significant impact. Read More... (a) Tap water in Kolkata may soon meet BIS norms, (b) Kolkata's Rajarhat to get an ice skating rink , (c) Coffee House turns dearer after a decade , (d) Left cries foul over West Bengal CM's Nepal relief plan , (e) Quake-hit Darjeeling losing tourists in peak season, (f) Brand Bengal to turn 'sweetest' 10 TOLLYGUNGE: News In Bengali - Entertainment News
==================
The best Bangla radio on net. Directly from Kolkata. Listen 24x7 - just for you
Mark your calendar for 35th NABC conference at George R. Brown Convention Center, 1001 Avenida de las Americas, Houston, Texas 77010 from 10th to 12th July 2015. Presentation of highly entertaining program with vocalists, dancers, musicians, actors, actresses & band group from Mombai, Kolkata & Dhaka will be highlight again at the sanmelan. Artists expect to participate at the sanmelan will be Shreya Ghosal, Music Group 'Red', Amjad Ali Khan & sons, Debjoyti Mishra, Tanusree Sankar & troup, Monomay, Saikat, Pramita, Saheb, Saunak, Rini, Riddhi, Biswanath Bose, Sovon Ganguli & many many more. On line registration is on as well as hotel booking. So check it out by clicking following link.
==================
TSS's 10th Festival of Performing Arts
On May 16th & 17th, 2015 Venue: Glenforest Secondary School 3575 Fieldgate Drive, Mississauga, ON L4X 2J6. Artists featuring: Rupankar: Famous Bengali singer, Parvathy Baul: Internationally famous Baul Singer, Shreya: Rabindrasangeet Singer, Debanjana: Bollywood & Indian Idol. Other program highlights: * Cassical fusion group performance from Kolkata * Opening ceremony - concept, choreograph, direction by Sanjukta Banerjee * Children's drama - concept, script, direction by Prantika Banerjee * Show case of local talents: Poetry and dance recital, Musical, Drama, Instrumental, Song recital ...
Stay tuned as we add many more international & local programs for your entertainment. Tickets: Front two rows: $80, Reserved Seats: $50, Unreserved: $40, For more information contact: Kobi Banerjee: 416-371-9297, Pijush Mitra: 416-315-5529 or Dhruba Ghosh: 647-680-3228
==================
Toronto Classical Group presents
Kaushiki Chakraborty is a prominent Indian classical vocalist. Kaushiki has participated in many major concerts, including the Dover Lane Music Conference, the ITC Sangeet Sammelan in India, the Spring Festival of Music (California), Sawai Gandharva Bhimsen Sangeet Mahotsav, Parampara Program (Los Angeles), and in a number of North American Bengali Conferences (NABC) including the recent 2013 NABC in Toronto. The upcoming Kaushiki?s concert is being organised by the Toronto Classical Group in Toronto on Saturday, June 20th, 2015, at the Don Bosco Catholic Secondary School (see below for details). Please attend ? we need your patronage, and please also circulate this concert information to all your contacts.
Please note: You Can Buy Your Tickets Online (No Service Charge Required): http://somupay.com/kaushiki.html / http://events.sulekha.com/toronto-metro-area
==================
ASTAPRAHAR by Bangiya Parisad:
24 hours of chanting of Krishna Mantra (Astaprahar) will be held on May 23rd, 2015 starting at 9:00 AM and ending at 10:00 AM May 24th at Tagore Center. Chairman: Ashoke Neogi (416-508-7952).